In order to keep your small to medium business running smoothly, you need layers of sophisticated technology. "Enterprise-level" services and products are often described as having a certain board meaning and appeal. For your small business as well as larger companies, here's what this term means when talking about information technology.
Generally, enterprises are considered large corporations with hundreds or even thousands of employees. Information Technology, or IT, spending is relatively flexible for these organizations since they typically have very large budgets. Enterprises are usually looking for a top-of-the-line product that provides a comprehensive solution to problems they might face. Knowledge-intensive managed IT solutions of this type are generally very common.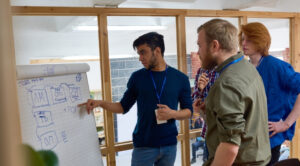 Enterprise is described in the Oxford Dictionary as:
a company or business.

a large project, especially one that is difficult
"Enterprise-level" solutions are generally marketed as highly knowledge-intensive and expensive. It is necessary for professional IT specialists to implement these solutions on a large scale. Investment in new technologies involves a lot of risk, so it's better to leave it to the professionals.
There is a fundamental problem with this situation: small and medium-sized businesses with limited IT budgets are unable to afford the time and upfront costs associated with enterprise-level IT solutions. Cutting corners on other aspects of your business operations can result in hardware failures, data loss, and other problems.
ITBizTek is aware of just how important it is to maintain your operations with the latest information technology services in the Toronto community. Integrating comprehensive solutions without compromising some aspects of your organization's IT infrastructure is what we do best. You don't have to worry about running into budget issues if you work with our trusted specialists. Using ITBizTek allows your business to leverage enterprise-level technology without having to handle all of the high-end management and maintenance. Your investment gets more value when you take advantage of major technology solutions without putting a lot of effort into them. By saving time and revenue, you can focus on other aspects of your business.
Our mission at ITBizTek is to ensure local small and medium-sized businesses are operating at maximum efficiency by providing versatile and powerful enterprise-level services and solutions. Contact us today for a consultation regarding protecting the data of your Toronto small to medium-sized business.
Contact ITBizTek IT Professionals Today
Contact ITBizTek to find trusted IT professionals to protect you and your business. Never let a network issue cause you downtime again with our around-the-clock network protection, managed IT, and cloud backup services.
Head office: 364 Supertest Road, Suite 207, North York, Ontario, M3J 2M2, Canada
Second Office: 9251 Yonge Street, Suite 8308, Richmond Hill, Ontario, L4C 9T3, Canada