Organizations face disasters every day, whether they're affected by extreme weather, DDoS attacks, or military conflict. The right preparation for your I.T infrastructure makes the difference between staying resilient and thus successful versus suffering a coveted loss and an unfortunate business closure. There are several ways to ensure your business remains operational and mitigates financial losses in the event of any potential disaster. Here, ITBizTek is going to give you an overview of our extensive, professional disaster recovery service plans for any Toronto business.
Data & Server Center Disaster Recovery Plans
Data centers are a great place to store your important backup and data recovery infrastructure. Due to their nature, there is a high likelihood that large data centers will house processes and storage for a number of different companies, which means these centers have extremely encrypted and secure networks to protect not only your business, but that of all of their customers, and even themselves. Data centers house large, physical server farms around the world that run the entire virtual "cloud".
Our Data Enter Recovery Plans Possess The Following:
Around-the-Clock Secure Server Protection

Physical Security (pin locks, access doors and CCTV)

Expert Technical Support 

Utility Infrastructure Backup Systems

Multi-Server Backup For Added Protection
The benefit of having disaster recovery solution providers put a solution in place for a data center is that all clients of the data center are harmoniously protected, rather than just the one, singular organization running the data center. This ensures the continuity of services and operations for multiple businesses and users of the servers inside that data center.
Disaster Recovery Plans Using Data Back-Up
Disaster recovery services providing secure data backup and recovery is the most basic type of disaster recovery around today. There should always be a copy of all data stored offsite that can be restored in an emergency, regardless of the size of the company.
Ransomware has made this an increasingly important issue. Ransomware cleanup costs have gotten more and more unaffordable, and too many companies are paying these unnecessary ransoms because their backup systems aren't easily restorable.
What is Involved in an ITBizTek Data Back-Up Disaster Recovery?
Multiple Layers of Backups and Copies Spread Over Different Physical Platforms

Consistently Monitoring Backup Systems 

Performing Regular Data Security and Viability Tests

Keeping a Backup of All Physical Devices

Backup of All Cloud Services
In addition to ensuring complete data protection and regular backup verification, ITBizTek is here to assist with devising a custom back-up solution for your business.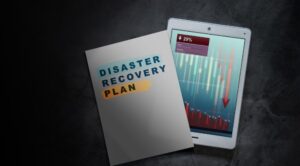 Virtual & Cloud Recovery Plans For Corporate I.T Disasters
Data backups are taken a step further with a virtual disaster recovery plan. In addition to backing up your data, cloud servers back up your entire IT infrastructure as well.
How Do Virtual Recovery Plans & Systems Work?
Entire Replication of I.T Infrastructure

Virtually Running Anywhere & Everywhere

Less Reliance On Physical Hardware

Device Restoration
When you work with a disaster recovery solution provider like ITBizTek with this robust form of backup and recovery, you can pivot to another location quickly if you suffer physical damage or a cyber attack to your physical location.
DRAAS (Disaster Recovery As A Service)
In DRaaS, everything is packaged and taken care of for you, similar to a virtual disaster recovery plan. Our disaster recovery service works by having ITBizTek take care of backup applications and mitigation solutions for you. Cloud-based DRaaS provides an exact replica of your IT infrastructure. You will not have to purchase any separate systems for verification of backups and security. DRaaS allows you to focus on your business while being protected against unforeseeable but common disasters such as equipment failures, and cyberattacks.
Cyber attacks are another current trend that emphasizes the importance of a detailed disaster recovery plan. Most attacks are not detected until months or even years after the initial infection. Due to the length of time, these programs are profligating, attackers can plant malware in backup sets, thereby infecting even backup and recovery data. For months or even years, malware may remain dormant, propagating throughout the system. An organization can have a difficult time removing malware that has become so widespread even after it has been detected.
Keeping your business running is crucial: You need rapid disaster recovery solutions.
Hot Site Network & Data Disaster Recovery Plan
Having a system down for even a few minutes let alone hours can have devastating and long-lasting effects on certain organizations, such as medical facilities, educational institutions, and financial establishments. Any downtime will impact customers, patients, students and ultimately efficiency. No business or organization, big, medium or small can afford to have disasters like these occur.
In hot site disaster recovery, an identical IT infrastructure is set up in a separate physical facility. It is more expensive, but it offers a more complete level of downtime protection. By setting up a "hot site" that you can use in case of a disaster, downtime can be virtually eliminated since the backup site is always available for use. Data and devices have already been connected to the necessary network infrastructure and systems. Hot site disaster recovery is a surefire way to seamlessly and immediately access your data and information in the worst of cases.
Cold Site Network & Data Disaster Recovery Plan
Cold-site disaster recovery is a more economical option than hot-site disaster recovery but can easily be just as effective for small businesses. In the case of cold site recovery, server space is available for use when necessary, i.e in the case disaster strikes. As long as the server infrastructure, other system information and user access are already in place, the space won't need to be physically setup, it can be ready to go with minimal downtime. Although the cold site recovery process takes a bit longer to set up than the hot site recovery option, it offers a critical backup location in the event that your physical location is damaged or destroyed.
How Do Industries Actually Use and Implement Disaster Recovery Plans?
For example, if a company's operations are national then they may decide to have their disaster recovery national as well. Cases of extreme weather, natural disasters or other unforeseeable catastrophic failures can easily affect large geographic regions and entire countries. In these rare but possible events, a company that relies heavily on its localized backup systems will be unable to function without power, network or even physical access. A disaster like this would be a massive blow to the operational revenue of their bottom line because every second of downtime hurts brand image, support and trust in any business, organization or institution. It is especially important in these cases, that government support networks stay online and secure for communication, security and emergency support services.
A Guide To Picking The Right I.T Network Disaster Plan For Your Organization
When your choose between these disaster recovery plans you should consider a number of factors. The best way to fully understand your options and what each one involves is to work with a trusted disaster recovery solution provider like ITBizTek In order to find the best protection for your business, you must balance the cost-effectiveness of the solution with the relative cost of potential downtime.
ITBizTek can assist your Toronto organization in reviewing its disaster recovery options and risks. Our goal is to provide you with the perfect plan for your industry and business that keeps you better protected on your budget.
Contact ITBizTek IT Professionals Today
Contact ITBizTek to find trusted IT professionals to protect you and your business. Never let a network issue cause you downtime again with our around-the-clock network protection, managed IT and cloud backup services.
Head office: 364 Supertest Road, Suite 207, North York, Ontario, M3J 2M2, Canada
Second Office: 9251 Yonge Street, Suite 8308, Richmond Hill, Ontario, L4C 9T3, Canada