ITBizTek provides full consulting and managed IT services to small and medium sized businesses. We  can manage your cloud, network, servers and more, so you can focus on what truly matters: your business.
Expert IT Solutions
Our advanced IT solutions will set you up for success and fuel your business' growth. Let us help you use technology to increase productivity and cut costs while gaining a competitive advantage. We offer complete managed IT services in Toronto that will keep your systems running smoothly, and protect your data.
Full Infrastructure Preventative Maintenance
As part of our managed IT services, ITBizTek will provide you with several maintenance plans and options. Server maintenance can include a wide range of services, starting from day to day operational tasks to continuous monitoring of server performance to determine issues and inefficiencies. ITBizTek will work with you to establish the level of maintenance you require, based on your business needs and budget. Our main goal is to prevent computer issues from becoming larger problems that result in finacial loss, data loss, business interruptions and costly downtime. As part of our services, we'll monitor every aspect of your network to identify and resolve issues before they turn into costly problems. We offer regularly scheduled maintenance for your desktops, servers, laptops, switches, firewalls, and anything else in between.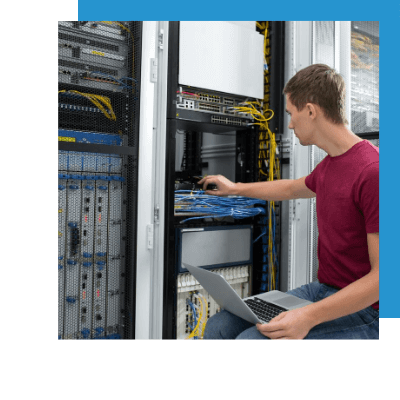 Complete Backup Monitoring Solutions
ITBizTek is committed to using advanced tools for all our managed IT services, including backup monitoring. We'll ensure your data is safe and protected against any threats through managed cloud services and backups.
ITBizTek is highly focused on providing superior backup solutions for your organization, to ensure your data is properly protected and will not be lost. We will work with you to find the optimal backup solution for your business, which will limit any downtime caused by the need to recover lost data. Your peace of mind is ITBizTek's highest priority. We will implement routine backups, and find the most efficient and reliable backup solution tailored to your organization.
Scheduled Data Consistency Checks
Your company relies on data to thrive. As part of our managed IT services, we perform regularly scheduled  data consistency checks to detect discrepancies and innacuracies.
In today's times, data consistency makes all the difference between a successful and an unsuccessful business. Inconsistent data can lead to wrong business decissions, which is why accuracy is crucial, especially when aggregating data from various external or internal sources. We're here to help you stay confident in your business decision making by ensuring your data is 100% accurate.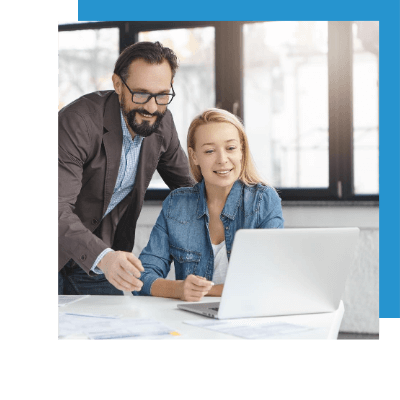 Keep Your Data Safe
If you're looking for a way to protect your business or organization from IT security threats, we're here to help. Our real time security services can detect and correct any vulnerabilities in your system and establish a secure infrastructure, protecting you from future threats.
We offer 24/7 real time security services
We ensure your data remains protected with encryption services
Our security analysts provide expert threat intelligence services
We offer multi-factor authentication to protect sensitive information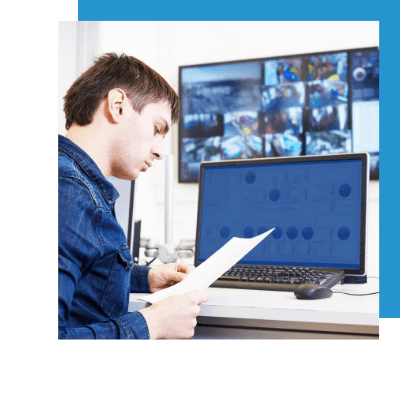 Reliable User Authentication Methods
We offer comprehensive managed IT services that range from remote desk service, device management, infrastructure management and managed cloud services.
Our goal is to help you keep your data fully secure, which is why we offer custom solutions for user permissions in order to provide you with full control over employee access. In addition, our multi-factor identification process ensures that sensitive information is never accessed by unauthorized users.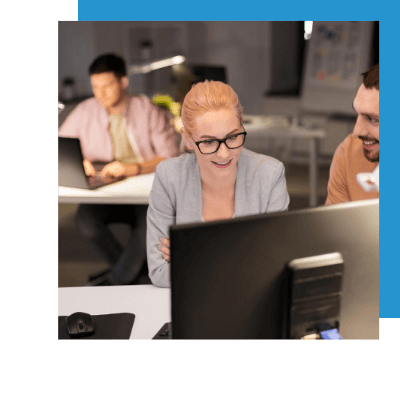 On Site/ Off Site Recovery Capabilities
In case of a disaster, ITBizTek will ensure your data is recovered quickly with the use of an efficient and reliable backup solution and a disaster recovery plan. Your peace of mind is ITBizTek's highest priority, and we will ensure your data is well protected and will be recovered should a disaster or any other accident occur.
Get the peace of mind that comes with knowing that all your data is safe and that your business will be running in full continuity with our managed IT services in Toronto.
Reliable User Authentication Methods
We offer comprehensive managed IT services that range from remote desk service, device management, infrastructure management and managed cloud services.
Our goal is to help you keep your data fully secure, which is why we offer custom solutions for user permissions in order to provide you with full control over employee access. In addition, our multi-factor identification process ensures that sensitive information is never accessed by unauthorized users.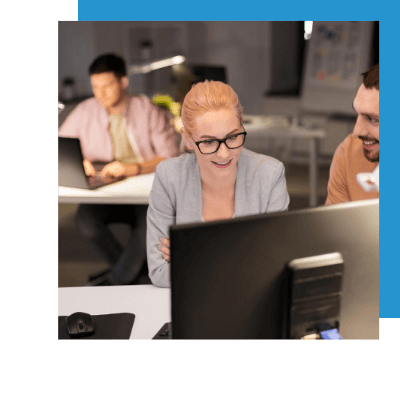 Complete Network Security
If your business relies on data, a network switch and a firewall are crucial to keeping your business safe. At ITBizTek, we provide businesses just like yours with network-based security solutions that will keep your network secure.
ITBizTek provides security solutions for networks of all sizes, as part of our IT managed services in Toronto. Security is an essential part of any network, and we will ensure that your network is safe from breaches through our firewall/switch management services. Furthermore,  we will provide you with optimal security solutions, customized to your network.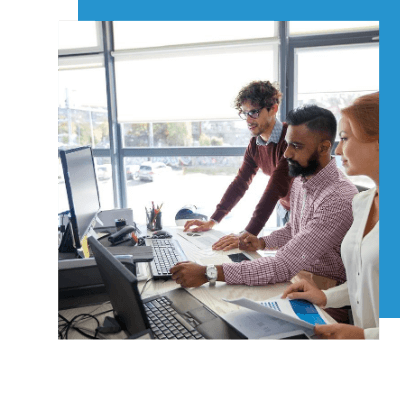 Flexible IT Monitoring Services
Our team of certified IT support technicians will provide you with full hardware and software monitoring solutions needed to streamline the response time and ensure a quick resolution of all your IT matters. Our hardware and software monitoring services include:
Proactive network monitoring, on and off site
On demand performance reporting
Server, application and cloud monitoring
Hardware monitoring and other managed IT services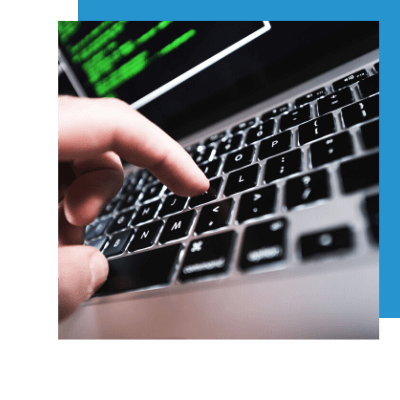 Reshape your Network Documentation
Your IT infrastructure is unique, just like your business. That's why you don't need standardized reports, but rather a tactical approach to your infratsructure documentation. At ITBizTek, we offer a customized solution for your network documentation.
Our custom reports will provide detailed insights into your IT system, including status reports, configuration and inventory statistics, keeping you informed every step of the way on the status of your network and the services you receive.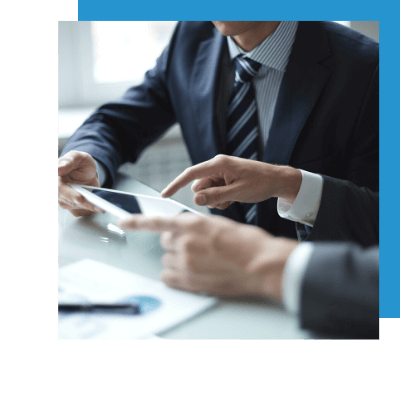 Get in Touch
We're here to help you find the best IT solutions for your business. Don't hesitate to drop us a line.
Why ITBizTek?
Since 1998, our team has been helping businesses across Toronto and the surrounding areas with managed IT services that ensure that day-to-day operations run smoothly. If you're looking for an IT outsourcing company in Toronto that will provide you with the support you need to grow your business or non-profit organization, then we are the right choice for you. Through continuous 24/7 support and a comprehensive IT plan developed just for your business, we're here to handle all your IT needs.
Certified professionals
Over 20 years of experience
Innovative solutions
Superior customer service
Prompt and reliable service
Managed IT services are offered by IT experts to handle businesses' IT operations. Even though some IT companies in Toronto offer partial IT managed services, it is always better to have a professional and experienced company handle all aspects of an IT system. Cutting corners on your IT setup can deeply hurt your organization because omitting an important service such as backups or monitoring might mean total data loss, and that could be difficult or impossible to restore. Serious IT professionals will never offer incomplete service, because they are fully aware of the fragility of the modern IT world, and they know that the consequences of not having proper IT support can be dire. That's why a good IT provider offers a full set of services for their clients as part of their managed IT services. These include:
Server maintenance
Full coverage support
Email management
24/7 monitoring
Network security
Backups
Disaster recovery
And much more
Speaking of incomplete services, many IT companies don't cover essential services, such as disaster recovery, which leaves clients vulnerable and unprotected. In the event of a flooding or a fire, all data will be lost and the company will suffer greatly from all aspects. Therefore, before you shop for cheaper options that include only partial IT services, ask yourself just one important question: "Can my business afford complete loss of data?" We know the answer to this question, and you do too, so take all the measures necessary to ensure that doesn't happen.
Essentially, IT managed services and IT outsourcing are the same thing. However, some IT companies allow you to choose which IT services you want in their outsourcing packages, while IT managed services typically take a more holistic approach.
Managed IT services have many benefits. The main one is that you can count on full IT support whenever you need it. With a good IT company, you can feel like you are covered and that you have insurance. Here are only some of the advantages of having a full IT Managed Services setup:
Saving costs
Saving time
Technological support
Increased efficiency and productivity
Streamlined operations
Improved security and stability
Round the clock support
Trained professionals who understand IT
You can focus on your business instead of wasting energy on IT matters
ITBizTek offers full coverage for all your IT needs and consultation whenever you need it. With us, you can feel like you are fully covered and someone is always there to help you. Basically, having a solid IT infrastructure and reliable IT specialists at your disposal is the best insurance policy you could have for your business operations.
Many people think that a small business requires a different set of services than a medium sized business or a large corporation. In reality, the size of your business absolutely has no impact on what IT services you should get. You should always get the full package and a good IT company treats all businesses the same. Every service is just as important as the other. You must have a security setup because you're vulnerable if you don't. You must have email and cloud backup, otherwise you have nothing to fall back on if something goes wrong. 
A startup needs full IT coverage from day 1! From the first day you move into a new office, your system should be in full operational mode. That means installing proper cabling, having a professional panel and a network running smoothly. While we're talking about the network, you should also make sure that your network can "handle" the workload. For example, if your company does heavy graphics, then you'll need a lot more than the standard 1GB switch to carry all the data. You need to size your switch, build a proper infrastructure, establish workstation security and protect your data folders. All of this may seem overwhelming, but it's always better to invest a little more effort into building a proper setup initially, than to deal with constant IT issues later. If your business doesn't have a solid IT infrastructure backing it up, you will soon experience problems that will hinder your daily operations, affect productivity, and make business difficult.
There are many IT companies out there that claim that they are experts in the field, but the truth is that IT is an ever-changing industry with enormous advancements that arise on an almost daily basis. We've seen experts in the field get run over by this fast changing world, to the point where they simply can't keep up. In IT, one of the most important rules is to find someone who can keep up with the latest technology and advancements, and who can help you get the most out of your IT setup. In general, these are the guidelines to follow when looking for experts for your IT infrastructure. 
How many years they've been in business. Experience counts a lot. 
Look at their reviews. A simple Google search will tell you a lot about the company itself and how they treat their clients.
Recommendations. Ask around. Is someone you know already using this company's services? Would they recommend the company?
You should also make sure you ask the right questions. For example, an IT company may tell you they offer full support, but make sure to check what that support includes. Do you have access to 24/7 support and monitoring? Is there a helpdesk? Do they have insurance (a really important question which will show you how legit the company is).
There are so many things that can go wrong in IT if you don't have the right experts by your side. For example, if your security system is not set up properly, anyone can access your company's sensitive files. What we've seen throughout the many years in business, are bad IT setups. So many times have we "inherited" a bad IT setup from a different IT company, and this poor setup was hindering the processes and daily operations of the business for much too long. That's why we cannot stress enough how important it is to set up your IT infrastructure correctly from the beginning. 
Another common issue is maintenance. Think of your IT setup as a car. Just like your car needs proper maintenance to avoid engine problems, so does your IT setup need regular maintenance to avoid network failure. From monitoring backups to making sure they go through smoothly, to fixing bugs that happen on an almost daily basis, an IT company is the engine that drives the business. As we always say, most IT issues arise from cutting corners, as some businesses think that they cannot justify the costs of setting everything up correctly. To that matter, we ask one simple question: "Can your business afford being down for days simply because you did not have a backup of your work, and a disaster made it all disappear?" Let professionals handle your IT, and you'll be able to focus more on growing your business rather than wasting time fixing IT issues.
Service Areas
Ever since 1998, we've been servicing businesses across Toronto and the surrounding areas with reliable, consistent and fast IT business support. Committed to making IT hassle free with 24/7 IT monitoring and custom IT solutions, we're here to help your business grow.
Small to Medium
Companies
(1-20 Employees)
Startups and small businesses from all industries need an IT service provider that will provide them with the stability and reliability to keep their business running smoothly. ITBizTek provides reliable IT managed services for small to medium sized companies.
Medium to Large
Companies
(20-50 Employees)
To keep their day-to-day operations running smoothly without the risk of losing valuable data, medium and large companies need dependable IT support, regardless of the industry. We provide consistent support for medium and large companies.
Large
Enterprises
(50+ Employees)
It is essential for large enterprises to have a trusted IT service provider, no matter the industry. With consistent backups monitoring and 24/hour support, we ensure that large enterprises get the IT services they need to run their business smoothly.