Although most people are familiar with service and help desk services, not many consumers or business owners know how they differieniate and what is the best option for help desk support. By understanding the difference, you can select the IT support and service management option from ITBizTek that best suits your needs. Service desk and help desk services are distinctly different, and both are beneficial to businesses in different ways.
Help Desk For Information Technology
The primary purpose of IT help desks is to resolve immediate technical issues and incidents. As part of a larger service desk or as a separate operation, help desks can be integrated. Ultimately, the help desk's goal is to resolve user requests as efficiently as possible.
Help desk support includes instant support, incident tracking, problem management, network issue resolution, and self-service options.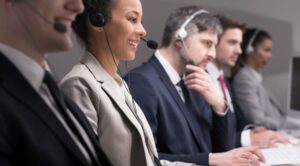 Responsive Service Desk
Unlike help desks, IT service desks offer a broader range of services and act as a singular contact point between users and service providers. As opposed to solving problems, a service desk focuses on overall business needs. Service desks handle incidents and service requests, as well as user communication. As part of a typical service desk, a help desk component will be included, with the goal of improving IT processes and improving business efficiency.
A service desk differs from a help desk because it integrates with other IT service management processes, organizes service level management agreements, integrates asset management protocols, and provides critical information from configuration management and problem management.
Help Desk VS Service Desk
Service desks provide end users with robust, 24/7 customer service, while a help desk focuses on providing quick solutions to problems as they arise.
Help desks are an addition to existing IT actions. As a subcategory of overall service desk capabilities, help desk support could be considered.
A significant difference between service desks and help desk systems is that service desks deliver IT services across the entire service-based ecosystem. IT service desks play an important role in modern IT service management. However, depending on the IT needs of an organization, help desks vs. service desks will be valued differently.
IT experts generally agree that different businesses require different characteristics from help desks and service desks. For businesses to maximize organizational efficiency and resolve problems, it is beneficial to understand their IT support needs and implement a support system that meets those needs.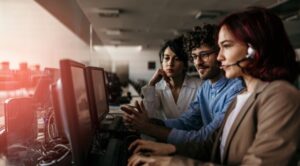 Help Desk and Service Desk Options for Businesses
Help desks and service desks are not necessarily required for successful companies, but both offer absolutely essential support. Help desks can meet all tactical needs for smaller companies and provide business users with immediate IT support to resolve important issues. Business operations grow when help desk contact support is implemented effectively.
A service desk is a valuable tool for businesses that emphasize optimal IT functionality and focus on corporate strategy. In order to manage specific needs and issues, individual components of Information Technology processes are analyzed on a software and processing level. By embedding help desk options within a service desk, comprehensive IT support can be provided across all business operations.
Business needs and user expectations heavily influence IT protocols and practices within your company. By outsourcing your IT services, you can access expert advice and services tailored to your specific Toronto business needs. ITBizTek simplifies your business operation by providing secure IT Management Services in Toronto. Don't hesitate to contact us!
Contact ITBizTek IT Professionals Today
Contact ITBizTek to find trusted IT professionals to protect you and your business. Never let a network issue cause you downtime again with our around-the-clock network protection, managed IT and cloud backup services.
Head office: 364 Supertest Road, Suite 207, North York, Ontario, M3J 2M2, Canada
Second Office: 9251 Yonge Street, Suite 8308, Richmond Hill, Ontario, L4C 9T3, Canada